Biosolids Communication Toolkit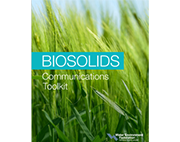 This comprehensive toolkit is a resource for communicating about biosolids in ways that are factual, science-based, and easily understandable by those who might be hearing about biosolids for the first time. The toolkit includes guidance on some of the more challenging communication tasks you may encounter—responding to, or proactively pursuing media coverage, handling concerns raised about the safety of biosolids, creating presentations for use at events or meetings with the public, and developing content to post online or on social media. The toolkit features messages that serve as an overall umbrella that can be adapted for FAQs, talking points, community meetings, fact sheets, brochures, social media, and websites.
Download the Complete Biosolids Toolkit
Toolkit Training Webcast Recording
Watch the recording of the 'Biosolids Communications Toolkit Training Webcast' here (broadcast Feb 4, 2021). You can access the presentation slides here.
Asset Guidelines
The Asset Guidelines provide an overview of the visual assets for Promoting Biosolids in Your Community. This guide has been developed to ensure the accurate and appropriate use of visual elements for consistency.
Templates
These files are templates for bill inserts, fact sheets, and rack cards that can be customized with information and art. There are options that include infographics and without.
Bill Inserts
Fact Sheets
Rack Cards
Social Media
These social media graphics highlight the various benefits of biosolids and are sized for use on Twitter, Instagram, Facebook, and Linked In. Each graphic is a 1080x1080 JPEG image.
Air Quality Graphic | Economic Graphic | Energy Graphic | Environment Graphic | Farms Graphic | Gardens Graphic |
Icons
These icons can be used in a variety of biosolids communications materials and include icons for clean air, climate change, economic, energy, environment, farms, garden, innovation, and safety. Each icon is available in digital, print, and vector format.
Using your mouse, right-click on an icon and select "Save Image" to download.