Carol Kinzer, P.E., blogs about her experience at the Water Week National Policy Fly-In.
Getting involved in water-related policy at a national level wasn't ever truly on my radar. It wasn't until I saw an e-mail come through to the Students and Young Professionals (SYPs), announcing a scholarship to attend the Water Week National Policy Fly-In, with a note at the bottom stating that participants from certain states (including Wyoming) were of particular interest. That piqued my interest. Wyoming's Senator Barrasso, from my hometown, is the chair of the Senate's Environment and Public Works Committee. Of all the ears that need to hear from water professionals, his was at the top of the list.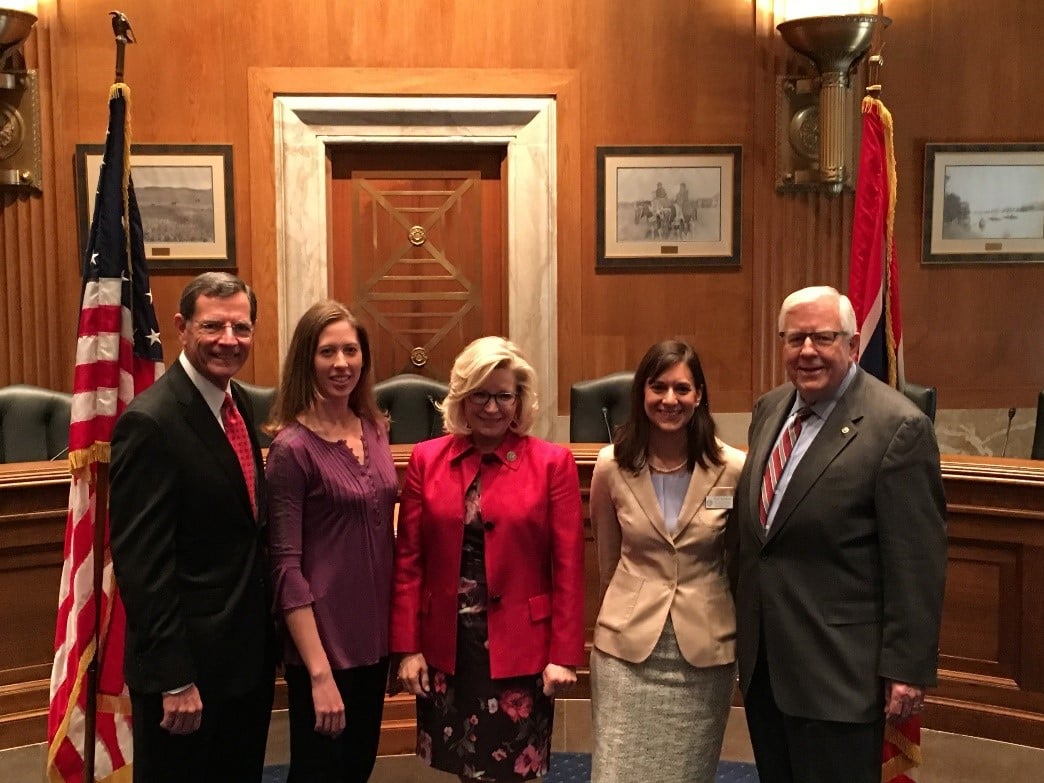 At the Water Week National Policy Fly-In, Carol Kinzer, engineer and WEF young professional (second from left) had the opportunity to meet with the congressional delegation from her home state of Wyoming. She met Sen. Barrasso (R–Wyo.); U.S. Rep. Elizabeth Cheney (R-Wyo.); Dena Egenhoff, water conservation and public relations specialist for the City of Cheyenne (Wyo.) Board of Public Utilities; and Sen. Mike Enzi (R–Wyo.).
So, feeling like a proverbial fish out of water, I headed from smaller-than-small-town Wyoming to Washington, D.C. When I arrived, I immediately connected with Steve Dye, WEF Director of Legislative Affairs, and Jamie Eichenberger, who is WEF treasurer, a past SYP, and a veteran Fly-In participant, and the first meeting was a luncheon with fellow SYPs and WEF staff
The first panel discussion, with various heads of EPA departments, was very interesting. They reiterated that water-related research and funding infrastructure projects were definitely on their list of priorities.
The next morning, I met with an American Water Work Association member from Wyoming to tag-team our Wyoming delegation. We attended "Wyoming Wednesday," where Wyoming's constituents meet with the delegates. There, I connected with Senator Barrasso's Water Resource Advisor and was able to discuss WEF's key points on funding and support, as well as some of the concerns that are specific to Wyoming's small rural communities and businesses.
Sen. Barrasso invited us to sit in on the Environment and Public Works Committee's Senate hearing on the definition of the Waters of the United States (WOTUS). It was fascinating to hear the discussions between senators and the panel of experts. They really dug into the details and consequences of regulation related to WOTUS. After the meeting, Sen. Barasso and his advisor came over and asked about my experience working on projects that fall under federal regulation (under WOTUS) versus state regulation.
After the hearing, I joined in on the water week briefing, which felt like a pep rally! Everyone was getting geared up and ready for more congressional visits, and I really appreciate WEF's support to help bring SYPs to the Fly-In!