U.S. Senate Bill Introduced to Protect Water Agencies from PFAS Liability
On May 3, 2023, U.S. Sen. Cynthia Lummis (R-WY) introduced the "Water Systems PFAS Liability Protection Act." This bill will provide an exemption for drinking water, wastewater, and stormwater agencies, including contracted services providers, from legal liability under the Comprehensive Environmental Response, Compensation, and Liability Act (CERCLA) for the release of per- and polyfluoroalkyl substances (PFAS) into the environment.
"We're grateful to Senator Lummis for her support of water professionals and water utilities," said Walt Marlowe, Executive Director of the Water Environment Federation. "A liability exemption will allow utilities to continue protecting public health and not place a financial burden for PFAS cleanup on ratepayers or taxpayers. The economic burden should be borne by PFAS producers, not the public."
Water agencies are passive receivers of PFAS. PFAS enter treatment and collections systems through a multitude of sources. Without the proposed liability exemption, a water agency could potentially be pulled into an enforcement action taken against a polluter, such as a PFAS manufacturer or industrial user. Such actions could lead to extensive unwarranted and misapplied legal and financial burdens for water agencies and their ratepayers.
The mission of water agencies is to protect public health and the environment. In the coming years, part of this mission will be to help clean up PFAS contamination, but agencies should not be held legally and financially liable for the pollution created by PFAS manufacturers and users.


Collaborative Action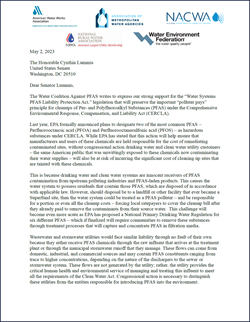 As a member of the Water Coalition Against PFAS, WEF and other national water associations worked closely with Sen. Lummis to develop this legislation. The Water Coalition Against PFAS has provided an endorsement letter for the bill and looks forward to assisting in its passage by the Senate.
Sen. Lummis is Ranking Member of the Subcommittee on Fisheries, Water, and Wildlife of the Senate Environment and Public Works Committee, which has jurisdiction over PFAS matters. Cosponsors of the legislation include U.S. Sens. Roger Wicker (R-MS), John Boozman (R-AR), Kevin Cramer (R-ND), Pete Ricketts (R-NE), Markwayne Mullin (R-OK), Dan Sullivan (R-AK) and Lindsay Graham (R-SC).


Show Your Support
Use the WEF Water Advocates grassroots advocacy tool to lend your support. Click on the button below to send a letter to your Members of Congress in support of the "Water Systems PFAS Liability Protection Act" to give water agencies liability protection from legal and financial actions taken through CERCLA regulatory enforcement.
Contact Your Member of Congress