Events & Education
Conferences
Registration & Hotel
WEF/IWA Innovations in Process Engineering 2023 Registration & Hotel
---
Registration
Registration for WEF/IWA Innovation in Process Engineering is Open!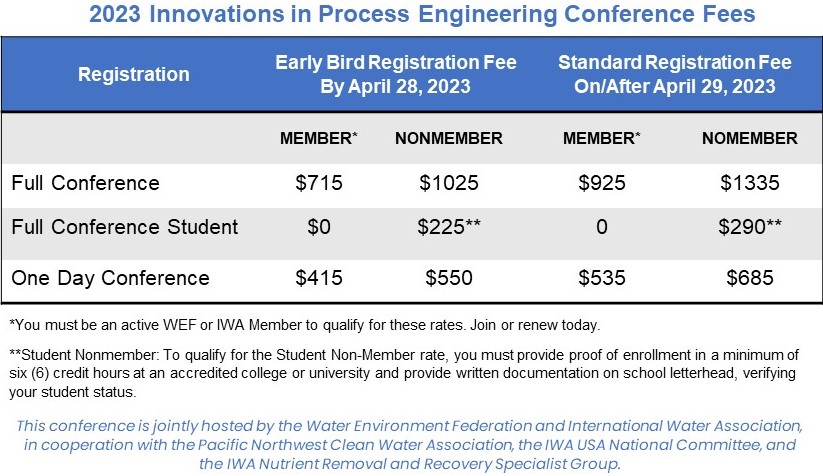 Download registration and workshop Rates
Register Now and Save! Early Bird Pricing Ends April 28!
WEF members are able to use our member search engine tool to look up their profiles.
Not a WEF member yet? Contact Customer Service at csc@wef.org to join today! or Click "Not a Member" to continue with your registration.
Fill Out all required fields.
For step-by-step instructions on the registration process, view the registration tutorial pdf.
Full Conference Registration Includes
Open General Session (June 7)
Technical Sessions (June 7 - 9)
Lunch (June 7)
Networking Receptions (June 7 & 8)
Workshops are not included with conference registration.
Member Rate Qualifications
To qualify for member rates, you must have a current individual WEF or IWA membership, valid through the date of the event you are attending. You should have your member ID number. Though your institution may be a member of WEF, you must maintain an individual WEF membership to be eligible to receive the member rate.
Nonmember
If you are not a member or your membership lapses and is not renewed by the event, you will either have to join/renew your membership or pay the non-member rate for the event.
Students that are not a member of WEF must pay the student nonmember rate and provide proof of student status.
Payment
Online registration payments are by credit card only (Visa, Mastercard, or American Express).
Cancellation and Substitution
A written request for cancellation/refund must be submitted by May 19, 2023. WEF will charge a 25% cancellation fee and refund 75% Rather than canceling, consider sending a substitute. An organization may submit a request to substitute one person for another in writing by May 19, 2023.
Important Note
All attendees must have a unique email address registered. If you are registering for someone else, please be sure to enter their email address.
Policies, Terms and Conditions
Questions? Please contact: Registration@wef.org
Housing
2023 Conference Headquarters Hotel:
Hyatt Regency Portland
375 NE Holladay St
Portland, OR 97232
SOLD OUT! (as of May 15, 2023): Guest rooms are no longer available at the Hyatt Regency Portland at the conference rate of $219/night + 16% occupancy tax.
Other Places to Stay - the following hotels are within walking distance of the Hyatt Regency Portland. Contact the hotels directly about availability and rates.
Getting to and around Portland
Fly to/from

Portland

Inte

r

nati

onal

Airp

ort (PDX)

- approximately 11 miles from the Oregon Convention Center

Portland Int'l Airport– TriMet Train Red Max Line– direct to airport and downtown (25 mins)

Taxis run on meters. The approximate one-way metered fare between Portland International Airport and the Hyatt Regency Portland is $25.00 to $32.00 (subject to change)

You can also pre-arrange an executive car or shuttle service.