WEF is committed to increasing awareness of the impact and value of water.
As a critical part of our mission, WEF works to elevate clean water, the water profession, clean water services, and the infrastructure that supports it as essential to protecting public health, the environment, and quality of life.
Water's Worth It Value of Water Campaign
---
Water's Worth It
Our WATER'S WORTH IT® broad-based public outreach campaign helps with this effort by highlighting the value of clean water, educating the public about important water quality issues, and encouraging a shared responsibility to sustainably manage it. The campaign has been updated and relaunched with modern visuals, an expanded messaging platform, and a new set of high-impact outreach resources, including a national PSA, "Why Water's Worth It."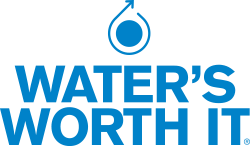 ---
Value of Water Campaign

WEF is also a founding partner in the national Value of Water Campaign and works closely with the American Water Works Association (AWWA)to develop tools and resources that will help support your efforts to educate and inform consumers, public officials, decision-makers, and stakeholders about the value and importance of water.


Communicating the Value of Water
Developed by WEF and AWWA, this toolkit of no-cost materials is intended to help you communicate the value of water, water and wastewater services, and the need for infrastructure investment.

Planning Tools & Reference Materials