YP Summit 2024
The WEF/AWWA Young Professionals (YP) Summit is the premier water and wastewater industry workshop for young professionals. Join other young leaders by exploring your role in water and discussing how you can best serve the water sector at large.
This is a skills development workshop that provides supplemental training and networking opportunities to emerging leaders and students in the water sector.
All students and young professionals in water-related roles are encouraged to join.
Registration is required.

2022 YP Summit participants in Orlando, Florida, February 21st, 2022.
Program EVENT SCHEDULE JUSTIFICATION LETTER
Registration Housing VolunteerSPEAKERS Sponsors SPONSORSHIP OPPORTUNITIES YP WORKSHOP DAY AGENDA-YP SUMMIT
Save the Date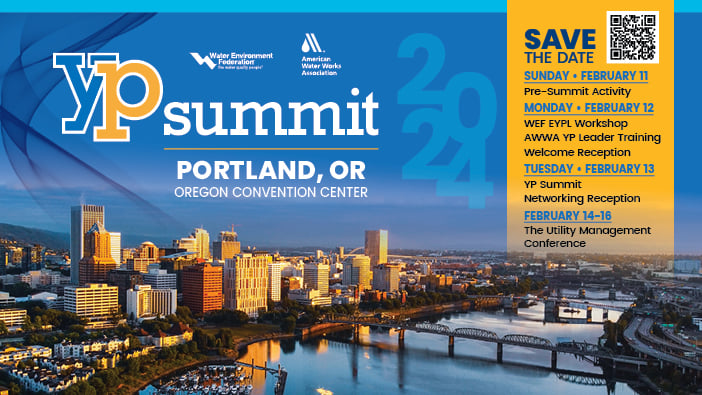 Program
Coming Soon.
EVENT SCHEDULE
Coming Soon.
JUSTIFICATION LETTER
HOW TO SELL ATTENDANCE TO YOUR BOSS
YP Summit attendees will learn about emerging issues in our industry and connect with a diverse group of water industry peers. The program is intended to challenge attendees to think critically about our industry (present and future) and to establish lasting connections with peers. Where else can you find so many professionals facing the same issues as your organization and learn how others are addressing those challenges? Are there solutions you're not aware of?
The Justification Letter has several tips to guide you in your request for approval to attend YP Summit.
Download the Justification Letter
Registration
Coming Soon.

Housing
Coming soon.
Volunteer
The WEF/AWWA YP Summit wouldn't be possible without the dedication and hard work of our volunteers.
- Local Host Committee
- Marketing Committee
- Programming Committee
- Sponsorship Committee
If you are interested in volunteering or learning more about YP Summit 2024, please email WEF Staff Ama Richardson.


Speakers
Coming soon.
Sponsors
Coming Soon.
Sponsorship opportunities
Support the future of water! The Young Professionals Summit offers a variety of sponsorship opportunities to enhance your company's impact and visibility throughout the conference.
Co-hosted by AWWA and WEF, The YP Summit is the premier water and wastewater industry workshop for young professionals.
Show your support of these future industry leaders by taking advantage of the sponsorship opportunities listed below. Being a conference sponsor is a great way to leverage your presence at the conference, increase your brand awareness, and put your organization's name in front of these up and coming YPs!
For more information, contact WEF Staff Ama Richardson.
YP Workshop Day
Coming Soon.
Agenda-YP Summit
Coming Soon.