Events & Education
Conferences
Past Conferences
RBC 23 Reg & Housing
Residuals and Biosolids 2023 Registration & Housing
---
Registration
Registration for WEF/IWA Residuals and Biosolids is open!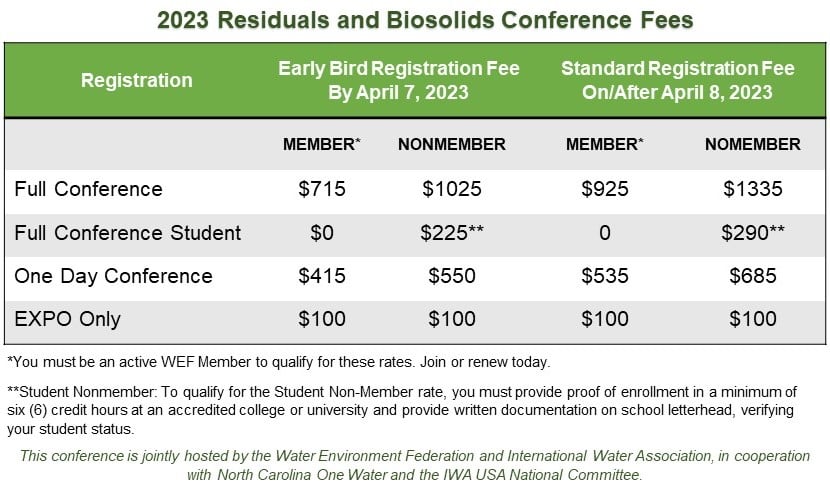 Download the
2023 WEF/IWA Residuals and Biosolids rates
To log in and register, follow these steps:

Log in with your WEF Username and Password (email address and password) or click "Forgot your Password" to reset it.
Do not have an account? Click "Not a Member" to create a free user account
After logging in, you will be redirected to the Residuals and Biosolids Conference registration page
For step-by-step instructions on the registration process, view the registration tutorial PDF.
Register separately to join one or both of these two events hosted by NC OneWater.
Friends of Biosolids Event – Hosted by NC OneWater
May 16 |Starting at 6:30pm | Nascar Hall of Fame
Tickets are $30 – Limited Tickets Available
Register Here and reach out to NC One Water with any questions.
IWA Social Event – Hosted by NC OneWater
May 18 | Starting at 6:30pm |Fahrenheit Charlotte
Tickets are $30 – Limited Tickets Available
Register Here and reach out to NC One Water with any questions.
Registration Fee Includes:
Access to Technical Sessions, networking events, and digital conference proceedings. Workshops are not included with conference registration.
Member Rate Qualifications:
To qualify for member rates, you must have a current individual WEF or IWA membership, valid through the event date. You should have your own individual member ID number. Though your institution may be a member of WEF, you must maintain an individual WEF membership to be eligible to receive the member rate. Learn more about WEF Membership.
Nonmember:
If you are not a member or your membership lapses and is not renewed by the time of the event, you will either have to join/renew your membership or pay the non-member rate for the event.
Students that are not a member of WEF must pay the student nonmember rate and provide proof of student status.
Payment:
Online registration payments are by credit card only (Visa, Mastercard, or American Express).
Cancellation and Substitution:
A written request for cancellation/refund must be submitted by April 28, 2023. WEF will charge a 25% cancellation fee and refund 75%. No refunds will be issued for cancellations requested after April 28, 2023. Rather than canceling, consider sending a substitute. An organization may submit a request to substitute one person for another in writing by April 28, 2023.
Important Note:
All attendees must have a unique email address registered. If you are registering for someone else, please be sure to enter their email address.
Policies, Terms, and Conditions
Questions? Please contact: Registration@wef.org
---
Housing
2023 Conference Headquarters Hotel:
The Westin Charlotte
601 South College Street
Charlotte, NC 28202
SOLD OUT! (as of April 10, 2023): Guest rooms are no longer available at the Westin Charlotte at the conference rate of $239/night.
PLACES TO STAY
-- Use the Charlotte Regional Visitors Authority's Places to Stay resource to find alternative accommodation in the Uptown neighborhood near the Charlotte Convention Center.
Getting to and around Charlotte