As WEF's key stakeholders, influencers, and ambassadors, we all have a critical role to play in advancing and communicating our new mission, vision, and goals for the future. WEF has created this Toolkit of materials to support you as ambassadors and chief storytellers of WEF's new Strategic Plan, and ensure you feel fully equipped and empowered as you share the plan and build support and momentum behind it.
We encourage you to download the Toolkit materials and incorporate them into your conversations, social media posts, or presentations about the new Strategic Plan.
Talking Points FAQs Social Media Posts PowerPoint Presentation Infographics STRATEGIC PLAN MAPS VIDEOS Email Signature Decals Water Stories
Talking Points
The Talking Points are the key messages you should use when communicating about the new Strategic Plan. These can be used in meetings, presentations, social media, and other communications to WEF members and others within the water community. Using this messaging assures we speak consistently about the plan.

FAQs
Get answers to the most frequently asked questions (FAQs) about WEF's new Strategic Plan, including how it will impact the member experience, as well as next steps for member leaders, committees, and WEF Member Associations (MAs). Download, print, and hand out these FAQs at your next presentation or meeting.
Help us keep these FAQs up to date by sharing the feedback and questions from your presentations with us.

Social Media Posts
The following posts are provided in formats for both Linked In and Twitter and include suggested copy and images that you can just grab and post to your own social media feed. Share these with your network at least once per week over the next two months as we roll out the Strategic Plan, then at least monthly after that to keep interest and excitement high. There are 12 posts in total.

PowerPoint Presentation
This is a deck of slides that you can use to present the Strategic Plan to different audiences. You can use the script we've provided here. Or you can use the Talking Points to develop your own script.

Infographics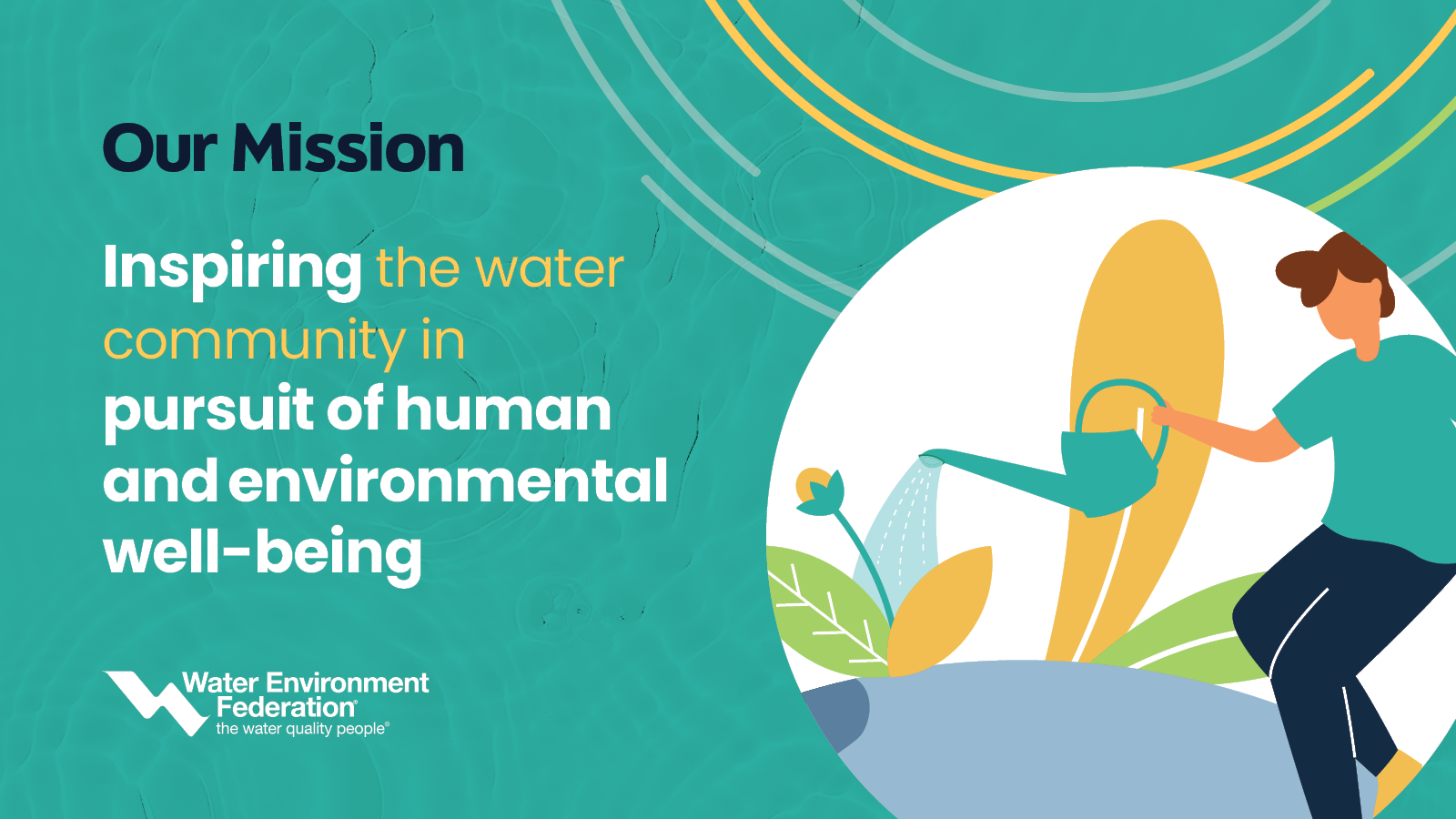 The following infographics can be inserted into documents, presentation slides or social media posts as needed to help promote the new strategic plan, drive support for decisions, or even highlight an idea or initiative you're promoting that supports the plan.

Strategic Plan Maps
Here are two simple ways to present the entire WEF strategic plan at once, in one infographic image, that you can incorporate into any presentation you may be making to water sector stakeholders. Print and hand out the one-page, downloadable PDF (which also works in black and white) and/or insert one or both of the Strategic Plan Map PowerPoint slides into your next presentation for impact.

Videos
The following videos may be shared with any of your audiences to generate interest and excitement around the new Strategic Plan. You can link them from your website, play them during your PowerPoint presentation, or share these with your own network on social media.

Email Signature Decals
Please consider adding one of these decals to your email signature to keep the plan top of mind, to reinforce your role within the water sector as a WEF strategic plan champion, and to encourage your water sector colleagues to share their water stories with WEF.
Be sure to link the decal to www.wefwaterfuture.org before you go live with it as your email signature.

Water Stories
As our Three-Year Outcome Statement says, we must "amplify the stories of water to grow, strengthen, and diversify the water community." So, ask members of the water community to share their stories with WEF. It's a key way you can use your influence as a WEF member leader to help spread the word about both the importance of water and WEF's new focus.
Questions? Contact Us
If you have any questions about the tools you see here or suggestions for our consideration, you may contact Andrea Pellegrino, Managing Director of Membership, Marketing & Communications, at apellegrino@wef.org or +1.703.684.2438