Events & Education
Conferences
Past Conferences
Exhibitor Service Manual
Exhibitor Service Manual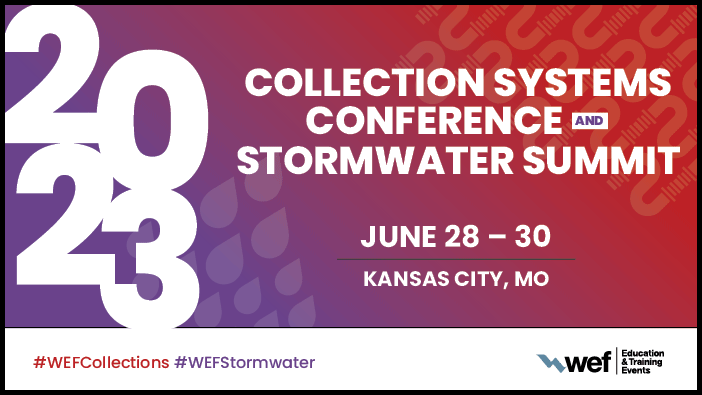 This service manual provides the information for exhibitors attending and participating in two co-located events: Collection Systems Conference 2023 and Stormwater Summit 2023.
Choose the type of information to get started
Required Items Show Preparation Rules & Regulations Contact and Vendors
---
Required Items
All exhibitors must maintain and provide proof of insurance coverage.
Deadline: May 16
Option 1 – Cost: $75
The Andersen Insurance Group offers WEF exhibitors a short-term policy, specific to this conference, which meets all insurance requirements. Complete and submit the Exhibitor Liability Coverage Application online.

You'll receive a Confirmation of Coverage Certificate as soon as credit card payment is submitted.

Option 2 – Cost: Varies
Obtain coverage through your company's existing policy, which meets the requirements listed below. Submit proof of insurance/Certificate of Insurance (COI) by email: expoinfo@wef.org
Policy terms must cover dates of occupancy, including move-in and move-out.
Comprehensive General Liability or Commercial General Liability and Automobile Insurance must name the following Additional Insureds: Water Environment Federation, the City of Kansas City, Missouri, and their agents, trustees, officers, board members and employees.
Comprehensive or Commercial General Liability - $1,000,000 per occurrence/$2,000,000 aggregate
Auto Liability - $500,000 per occurrence covering operation of owned, leased, hired and non-owned vehicles
Worker's compensation insurance in full compliance with all Federal and State laws and covering all employees and Independent Contractors on site.
Insurance protecting exhibitor's assets and property brought to the exhibit is recommended.
Certificate Holder
Water Environment Federation
601 Wythe St
Alexandria, VA 22314

Submit Certificate - expoinfo@wef.org
WEF cannot accept insurance policies issued by agencies outside of the United States.
Required | Show Prep | Rules | Contacts | Top
REGISTRATION, HOUSING, ORDERING SERVICES
Required | Show Prep | Rules | Contacts | Top
---
Show Preparation
Exhibitor Move-In
Tuesday, June 27 | 8:00am – 4:30pm
All exhibits must be fully installed by 4:30pm
Exhibit Hall Hours
Wednesday, June 28 | 10:00am – 6:15pm
Thursday, June 29 | 10:00am – 3:45pm
Exhibitor Move-Out
Thursday, June 29 | 3:45pm – 6:00pm
All labor and material handling services performed after 4:30pm will have overtime rates applied.
Contact Exhibition Management with any Move-In/Move-Out timing issues.
Dismantle and Move-Out
Freeman will begin returning empty containers at the close of the show.
All exhibitor materials must be removed from facility by June 29 at 6:00pm.
All carriers must check-in by 4:00pm. In the event your selected carrier fails to show on move-out day, Freeman reserves the right to re-route your freight onto another carrier.
Required | Show Prep | Rules | Contact | Top
Shipping Information
Ship early to avoid delays and save money.

Warehouse Shipping Address
WATER ENVIRONMENT FEDRN
Collection Systems & Stormwater Summit 2023
C/O TForce Freight / Freeman
3800 Kansas Ave
Kansas City, KS 66106
Printable Labels Warehouse Shipping
Freeman will accept crated, boxed, or skidded material beginning May 26 at the above address.
Material arriving after June 16 will be received at the warehouse with an additional after deadline charge.
Freeman Warehouse does not accept uncrated freight (loose, pad-wrapped material and/or unskidded machinery), COD shipments, hazardous materials, freight requiring refrigeration, a single piece of freight weighing more than 5,000 pounds or a single piece of freight beyond the dimensions of 108"H x 93"W x 92"L.
Shipments are accepted at the warehouse Monday - Friday between 8:00am - 3:30pm ET.
Certified weight tickets must accompany all shipments.
If required, provide your carrier with this phone number: (888) 508-5054.
Show Site Shipping Address
WATER ENVIRONMENT FEDRN
Collection Systems & Stormwater Summit 2023
Kansas City Convention Center
C/O Freeman
301 W 13th St
Kansas City, MO 64105

Printable Labels Show Site Shipping
Freeman will receive shipments at the exhibit facility beginning June 27.
Shipments arriving before this date may be refused by the facility.
Any charges incurred for early freight accepted by the facility will be the responsibility of the exhibitor.
Certified weight tickets must accompany all shipments.
If required, provide your carrier with this phone number: (888) 508-5054.
All items and materials brought into the facility may be subject to Material Handling Charges and are the responsibility of the Exhibitor. This also applies to items not ordered through the Official Show Vendors. Visit FreemanOnline for details.
Required | Show Prep | Rules | Contact | Top
EXHIBIT BENEFITS - INCLUSIONS/EXCLUSIONS
Booth Includes
Raw booth space including pipe & drape and ID sign
Access to attendee list
Two (2) complimentary booth personnel registrations per 100 sqft
Listing in conference mobile app
Listing in the printed conference program (Deadline: May 23)
Access to conference proceedings
Booth Does Not Include
Carpet/Flooring - carpet/flooring is required
Furnishing - tables, chairs, etc. (order carpet and furnishings online)
Electricity and other utility connections (order utilities online)
Exhibitors are permitted to bring their own booth furnishing and carpet/flooring provided they are in good condition, meet all fire code requirements, fit your purchased booth space, and do not detract from the general professional appearance of the Exhibition
Exhibit Hall Colors
CS – Red / Black back drape, Red side rails, Tuxedo aisle carpet.
SW – Blue / Black back drape, Blue side rails, Midnight blue aisle carpet.
Required | Show Prep | Rules | Contact | Top
Booth Personnel
Exhibit booths are to be staffed by at least one booth personnel during exhibit hours:
Wednesday, June 28, 10:00am - 6:15pm and Thursday, June 29, 10:00am - 3:45pm.
Complimentary Booth Personnel
Exhibitors are permitted to register two complimentary booth personnel per 100 square feet (10' x 10') of booth space rented. Complimentary Booth Personnel Badges include access to the exhibit hall during set-up (move-in) and tear-down (move-out), access to all food service functions, including Wednesday and Thursday luncheons, and access to technical sessions.
Additional Booth Personnel
Exhibitors with larger booths may require more personnel to staff their booths and may register a reasonable number of additional booth personnel for $175 each. Additional Booth Personnel Badges provide access to the exhibit hall for all food service functions, including Wednesday and Thursday luncheons, and the exhibit hall during set-up and tear-down hours.
Register Booth Personnel Online
Booth Personnel can register online using the username and password provided by Maritz, our registration vendor. You will receive an email with these credentials once your final booth payment has been received and processed.
All Booth Personnel Registrations must be completed by June 9.
Key contacts and individual registrants whose email addresses were supplied during the registration process will receive an emailed confirmation with a bar code that should be brought onsite to the registration desk to obtain a badge and badge-holder.
If show floor access is required for personnel to work strictly for move-in or move-out, please contact show management.
Registration Cancellation Policy
All cancellations must be submitted in writing by June 9. A 25% administrative fee will be deducted from all refunds. Registrants who fail to notify WEF of cancellation by June 9, are liable for the full registration fee. Email cancellations or substitution requests to: registration@wef.org
Required | Show Prep | Rules | Contact | Top
Update Directory Listing
Make sure attendees can find you and find out about you! Update and customize your listing to fit the Collection Systems and Stormwater Summit audience.
Cut Off for Printed Program: May 23
Cut Off for Online Planner: June 23
Update Directory Listing & Contact Details
EAC (Exhibitor Appointed Contractor)
An EAC (Exhibitor Appointed Contractor) is any company other than designated official contractors (link to Approved Vendors) who provides a service (booth installation/dismantling, audio/visual, etc.), and requires access to your exhibit during standard labor hours.
You do NOT need to submit any EAC paperwork if you are using designated official contractors (link to Approved Vendors).
You DO need to submit EAC paperwork if you are using any other service provider. Note: some services are exclusive and EAC requests will be denied based on exclusivity, including material handling, booth cleaning, electricity, catering, internet, etc.
Notice of Intent to Use EAC (Email expoinfo@wef.org)
Deadline: May 2
EAC Agreement and EAC Certificate of Insurance (Email expoinfo@wef.org)
Deadline: May 30
---
Rules & Regulations
Decorating height is limited to 8'3" for all standard (inline) booths, and 12' for all perimeter booths. Display fixtures over 4' high are limited to the rear half of the booth (5' back from the aisle line). Only free-standing signage is available for standard and perimeter booths within the existing height limitations; hanging signs are not permitted.
Free-standing equipment may exceed the height limitation but must be in its normal commercial form and cannot have additional display materials placed on it above the existing height limit, such as logos or signage. Equipment exceeding the facility specifications may not be displayed.
Contact Exhibition Management with any questions regarding your equipment or display.
Other Limitations
Decorations, signs, banners, etc., may not be taped, nailed, tacked, stapled, or otherwise fastened to ceilings, walls, doors, windows, painted surfaces, or columns.
All exposed parts of displays must be finished or covered in a workmanlike fashion so that they will not present an unsightly appearance when viewed from adjoining booths or aisles. No carpet, overhead roofs, bridge-type structures, or the like will be permitted across aisles.
Flashing lights or other distracting or annoying materials are prohibited. Working motors, air pumps, etc., used to power a display must be positioned within the display area to avoid discharging sound or air into adjoining booths.
IAEE Guidelines for Display Rules & Regulations
All displays must conform to the Guidelines for Display Rules and Regulations (PDF) as prepared by WEF and based upon the guidelines originally distributed by the International Association of Exhibitions and Events (IAEE). The display rules and regulations are provided to assist exhibitors with the information necessary to properly design and build exhibits as well as plan their booth layout.
The rules outlined will be strictly enforced.
Required | Show Prep | Rules | Contact | Top
Food Service
Popcorn is not allowed in the Exhibit Hall. All food and beverages must be secured through the official caterer. Exhibitors are prohibited from procuring food services in their booths which conflict with existing services offered by show management, i.e.: Luncheon, Breaks, Networking Receptions.
Sound
Public address systems are not permitted. The noise level from any demonstration or sound system should be kept to a minimum and should not interfere with others. Any speakers must be directed into the middle of the exhibitor's booth space. The use of sound systems or equipment producing sound is an exception to the rule, not a right. The Federation reserves the right to determine at what point sound constitutes interference with others and must be discontinued.
Selling in the Exhibition
The on-site sale and delivery of goods is not permitted.
Assigned Exhibition Space and Exhibitor Functions
Exhibitors must confine their activities on the grounds of the exhibition facility to the space for which they have contracted; this includes the distribution of printed materials, the placement of signs, and booth personnel.
WEF policy prohibits functions being scheduled outside of contracted exhibit space during WEF Exhibition hours, Wednesday, June 28, 10:00am – 6:15pm and Thursday, June 29, 10:00am – 3:45pm.
WEF policy also prohibits product displays in hotel suites and locations other than the Exhibitor's rented space in the exhibit hall.
Violations of these requirements will result in the termination of the existing contract for exhibit space. If the Exhibitor has a function in an official WEF hotel, signs for that function may be placed in the public space of that hotel only. No Exhibitor signs may be placed in any other official WEF hotel for any other reason.
Equipment Demonstrations and/or Entertainment
Equipment being demonstrated should be set at least 2' from the aisle line of the exhibit. Space must be left within the exhibit area to absorb the booth personnel and spectators. At the sole discretion of the Exhibitions Manager or her designee, should the spectators interfere with the normal traffic flow in the aisle, overflow into neighboring exhibits, or divert aisle traffic, the demonstration must be limited or eliminated.
If moving equipment or displays with moving parts are being used, it must be presented and function in a safe manner with appropriate safeguards to assure the safety of all present in the exhibition halls. The Exhibitor is solely liable for the operation of all displays and agrees to indemnify and hold WEF, its officers, directors, volunteers, employees, guests, invitees, and agents harmless from any and all claims of liability arising out of Exhibitor's exhibit, demonstrations, and the like.
WEF reserves the right, in its sole discretion, to restrict demonstrations or entertainment which is objectionable or disruptive to the overall character of the Exhibition.
Demonstrations and/or entertainment using models, professional demonstrators, or company personnel must be carried out within the boundaries of the Exhibitor's rented space and in keeping with the decorum of the overall character of the Exhibition, both in content and in costuming.
Lights
UV lights are not permitted. Those displaying simulated UV lights must mask the lights with smoked plexiglass or drape so that the lights do not disturb neighboring exhibitors. Flashing lights are prohibited.
Giveaways, Contests, Drawings
Federal, state, and local laws heavily regulate drawings, lotteries, and/or contests that have prize giveaways. The laws of each state and location vary widely. Each Exhibitor is solely responsible to ensure that all giveaways, contests, drawings, etc. conducted as part of its exhibit comply with all federal, state, and local laws. The Exhibitor agrees that it is solely responsible and liable for any government action or legal claims, fees, penalties, or charges brought relating to the exhibitors' promotional giveaway activities.
Helium Balloons
The use of helium balloons, or any other articles, which when released may become caught or lodged on the facility ceiling, are prohibited.
Required | Show Prep | Rules | Contact | Top
LABOR RULES
Full-time company employees of an exhibiting firm may install and dismantle their own respective company display without the use of union labor. Any outside or additional labor required for installation, dismantle or decorating of displays is to be ordered from Freeman using union labor, or an approved Exhibitor Appointed Contractor (EAC) using union labor. Labor can be ordered in advance by ordering online, or at show site, at the Freeman Service Center. Freeman does not loan out equipment (tools, ladders, etc.) to install or dismantle displays without a labor order. – Order Online

Unloading and/or reloading of any and all contracted carriers will be handled exclusively by Freeman using union labor. Freeman will control access to the loading docks in order to provide for a safe and orderly move in/out. Exhibitor vehicles needing dock access will be handled exclusively by Freeman using union labor. This does not include persons unloading or reloading their exhibitor owned vehicles in the designated privately owned vehicle (POV) ground unloading area. Exhibitors may use their own dolly, hand cart or hand-carry items in the facility to and from the POV area, no motorized equipment is allowed. Freeman does not loan out material handling equipment.

All material handling services, other than the POV self-unloading as described above, are chargeable and invoiced accordingly through Freeman.

Gratuities
Tipping is expressly prohibited. This includes such practices as giving money, merchandise, or other special consideration for services rendered. Any attempt by an employee to solicit a gratuity for any service should be reported immediately to the Exhibit Manager and Freeman.

Safety
The safety of everyone working in the hall is of our utmost concern at all times. Standing on chairs, tables and other rental furniture is prohibited. This furniture is not engineered to support standing weight. Freeman cannot be responsible for injuries or falls caused by the improper use of our furniture.
If assistance is required in assembling your booth, please order labor online and all necessary ladders and tools will be provided.
Required | Show Prep | Rules | Contact | Top
CAMERAS
In general, photography and filming in the exhibit halls is prohibited. Exhibitors may take pictures strictly of their own booths, or of another exhibitor's booths only if they have received explicit permission to do so.
Any exhibitor taking photographs or videotape of another's exhibit or product without permission may be required to relinquish the film or digital media upon request.
Nothing in the exhibit hall shall be broadcast, televised, or in any manner recorded for reproduction or rebroadcast without the written consent of WEF and the Kansas City Convention Center.
Exhibitors at WEF events must abide by the WEF Camera Policy for Media
WEF Camera Policy for Media
Media representatives may not photograph, video, or record an exhibitor without written permission from the exhibitor and authorization from the Water Environment Federation. Media representatives must submit an authorization letter from the exhibitor and request authorization from WEF communications staff in advance of the conference or admittance to the exhibition floor. Media with cameras will not be permitted to enter the exhibition floor without a WEF escort and should make arrangements with WEF communications staff prior to June 23, 2023. Media may only film or photograph close-ups of the exhibitors they have received permission from and may only use wide angle shots of the exhibition floor. Continuous live streaming of the exhibition floor for web-based publications is not permitted. Any media representative taking photographs or video of an exhibitor or product without permission must relinquish the film or digital media upon request; the film or digital media will be disposed of after being relinquished. Media representatives are solely responsible and liable for ensuring adherence to this policy and agree to indemnify and hold WEF, its officers, directors, volunteers, employees, and agents harmless from any and all claims arising from failure to abide by this policy. This opportunity is only available to credentialed members of the media. WEF policy defines this as accredited print (newspaper and magazine) and electronic (radio, television, and online journal, magazine, and newspaper) reporters, editors, and camera operators who have the sole purpose of covering the conference for their respective media outlet. Any photograph, video, or recording obtained through this opportunity must be used solely for journalistic purposes.
Required | Show Prep | Rules | Contact | Top
All exhibitors are to keep all their exhibit items, tables, chairs, etc., within their assigned booth space. Nothing is to be placed in any aisle.
Empty cardboard boxes are not to be stored within booths.
Obstructions blocking utility floor boxes must be relocated by the exhibitor upon request.
All decorative materials must be flame proofed or of a type acceptable to the Fire Marshal's Office. Use of bark dust, mulch, chips or hay, etc., is not allowed unless pre‐approved by the Fire Marshal's office.
Displaying of vehicles requires vehicles to have 1/4 tank or less of fuel in the tank; gas cap must be either locked or taped in place; and battery cables taped, or batteries removed.
Displaying of any vehicle containing LPG gas propane shall have such containers reduced to atmospheric pressure before bringing them into the building.
No flammable gasses, liquids, or solids are allowed in any building, enclosed tent, or structure.
Booths with canopies larger than 10' x 10' are not allowed unless approved by the Fire Marshal's Office. All canopied booths must have a working smoke detector properly mounted in the canopy. If cooking in a canopied booth, you must also have a fire extinguisher.
Any enclosed structure larger than 100 sqft in floor area must have a working smoke detector properly mounted in the structure. All doors or windows to the structure are to be left open.
Portable space heaters are not allowed unless approved by the Fire Marshal's Office.

Required | Show Prep | Rules | Contact | Top
SECURITY AND AGE REQUIREMENTS
Security provided in the exhibit hall and public areas is primarily to control access and to serve as an overall deterrent. Guards are not specifically contracted to watch over each exhibiting company's booths and goods. Neither WEF nor the security company are responsible for monitoring your belongings.
Exhibitors are advised to treat the exhibit hall as they would any large public area, and safeguard small valuables such as laptops, computer tablets, etc., and to be mindful of items like flash drives or memory cards and lead retrieval units. Whenever possible, small valuable items should be removed by the Exhibitor overnight for safekeeping.
Exhibitors are liable for all thefts, losses and claims related to their participation in the Exhibit and should obtain insurance and liability protection appropriate to their circumstances. If preferred or required, an exhibitor may hire a guard from the contracted security company to guard their booth and belongings.
At any time during move-in, show days, or move-out, if you have a security incident, such as materials damage or loss, please contact Show Management.
Age Requirements for Admittance to the Exhibition
Children under 18 entering the exhibit hall during show hours must be accompanied by a parent or guardian at all times. The parent or guardian assumes all risk and responsibility for the child(ren). Children are not allowed in the hall during move-in and move-out.
Required | Show Prep | Rules | Contact | Top
---
Contacts and Vendors
APPROVED VENDORS
The following are the only WEF approved vendors. Be skeptical of any other vendors claiming to do work for our event!
Housing
Loews Kansas City
Attendee Lists / Registration / Lead Retrieval
Maritz
Decorator / Labor
Freeman Services

Utilities / Catering / Internet
Kansas City Convention Center
SmartCity Networks
888-446-6911
Audio Visual (A/V)
Kansas City Convention Center
Harvest Production
SHOW CONTACTS
WEF Exhibition Operations
expoinfo@wef.org
703-684-2443
WEF Manager, Exhibition Operations - Specialty Conferences
Jessica (LaFever) Dexter, CEM
jdexter@wef.org
703-684-2446
WEF Coordinator, Sales and Corporate Development
Micah Tsoi
mtsoi@wef.org
703-684-2409