Events & Education
Conferences
Forum 2023 Registration & Housing
Forum 2023 Registration & Housing
---
Registration
Registration for the IR² Forum 2023 is limited to approximately 150 participants and will be processed on a first come first served basis.
Registration Deadlines
March 3: Last day to submit a cancellation request and receive a refund
March 14: Last day to register in advance
March 15: Online registration is closed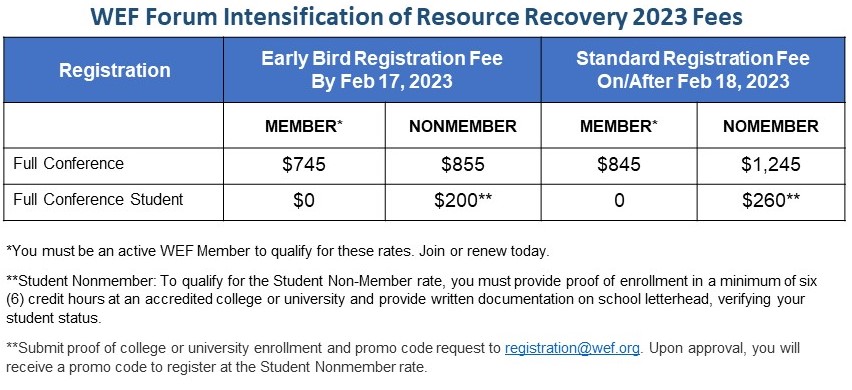 Download a PDF of the Forum 2023 registration rates.
ONLINE REGISTRATION FOR THIS EVENT IS CLOSED
For onsite registration or additional information, please contact us at registration@wef.org
Member Rate Qualifications:
To qualify for member rates, you must have a current individual WEF membership, valid through the date of the event you are attending. You should have your own individual member ID number. Though your institution may be a member of WEF, you must maintain an individual WEF membership to be eligible to receive the member rate. For more membership information, check here.
Nonmember:
If you are not a WEF member or your membership lapses and is not renewed by the time of the event, you will either have to join/renew your membership or pay the non-member rate for the event.
Students that are not a member of WEF must pay the student nonmember rate and provide proof of student status.
Payment:
Online registration payments are by credit card only (Visa, Mastercard, or American Express).
Registration Includes:
Technical Sessions
Lunch (Tuesday & Wednesday)
Networking Receptions
Important Note:
All attendees must have a unique email address registered. If you are registering for someone else, please enter their email address.
Policies, Terms, and Conditions
Questions? Please contact: Registration@wef.org
Housing
Different from some of WEF's past Forums, the registration cost does not include housing.  All Forum participants must make their own housing reservations and are strongly encouraged to stay at the Embassy Suites by Hilton Raleigh Durham Research Triangle in order to maximize networking which will continue throughout this 3-day event.  Additionally, guests of the Embassy Suites will enjoy complimentary breakfasts included within in their room rate.

Embassy Suites by Hilton Raleigh Durham Research Triangle
201 Harrison Oaks Blvd, Cary, NC 27513
(919) 677-1840