Collection Systems 2023 Registration & Hotel
---
Registration
Registration for Collection Systems is now Open!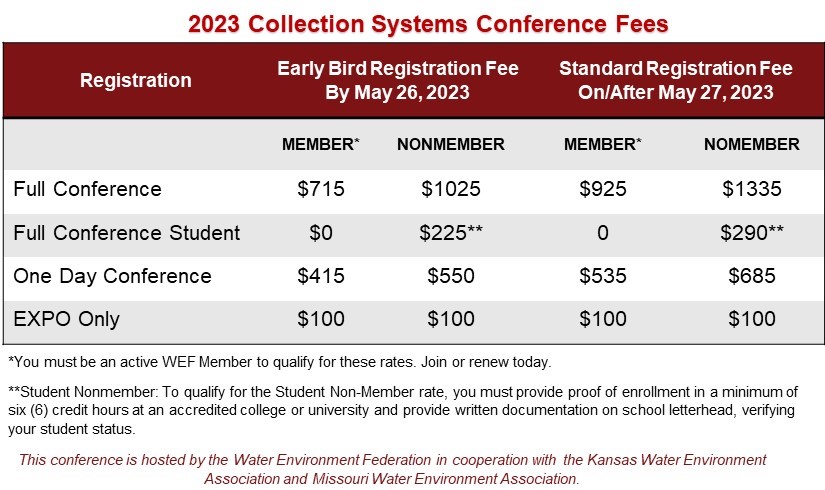 Download Registration and Workshops Rates
To Register, follow these steps:
Look up your WEF Account entering your Last Name and Email.
Do not have an account? Click "Continue as Not a Member" to complete your registration.
For step-by-step instructions on the registration process, view the registration tutorial pdf.
Register separately to join the KWEA & MWEA Social Event.
KWEA & MWEA Social Event
June 27 | 6pm – 9pm | No Other Pub by Sporting KC
Tickets are $25 – Limited Tickets Available
Register Here and reach out to MWEA or KWEA with any questions.
Registration Fee Includes
Access to Technical Sessions, exhibitions, networking events, and digital conference proceedings. Workshops are not included with conference registration.

Member Rate Qualifications
In order to qualify for member rates, you must have a current individual WEF membership, valid through the date of the event you are attending. You should have your own individual member ID number. Though your institution may be a member of WEF, you must maintain an individual WEF membership to be eligible to receive the member rate.
Nonmember
If you are not a WEF member or your membership lapses and is not renewed by the time of the event, you will either have to join/renew your membership or pay the non-member rate for the event.

Students that are not a member of WEF must pay the student nonmember rate and provide proof of student status.

Payment
Online registration payments are by credit card only (Visa, Mastercard, or American Express).

Cancellation and Substitution
A written request for cancellation/refund must be submitted by June 9, 2023. WEF will charge a 25% cancellation fee and refund 75%. No refunds will be issued for cancellations requested after June 9, 2023. Rather than cancelling, consider sending a substitute. An organization may submit a request to substitute one person for another in writing by June 9, 2023.
Important Note
All attendees must have a unique email address registered. If you are registering for someone else, please enter their email address.
Policies, Terms, and Conditions
Questions? Please contact: Registration@wef.org
---
Hotel
2023 Conference Headquarters Hotel:
Loews Kansas City Hotel
1515 Wyandotte Street
Kansas City, MO 64108
The all-new Loews Kansas City Hotel connects directly to the Kansas City Convention Center via a new pedestrian bridge. Conveniently within walking distance to key attractions and other destination landmarks like the Kansas City Power & Light District, T-Mobile Center, KC Streetcar, and the Kauffman Center for the Performing Arts.
Updated June 5, 2023 - the Loews Kansas City is no longer accepting reservations at the discounted $199.00/night conference rate. If you have an existing reservation at the Loews, you may call Loews Hotels at 1-800-235-6397 to change/modify or cancel your reservation.
Do you need to make a hotel reservation? Use Visit Kansas City's Where to Stay tool to find hotels that are currently available during the conference (June 27-30). Select "Downtown/Convention Center" as the Region filter.
Getting to and around Kansas City
Fly to/from Kansas City International Airport (MCI).
Taxis run on meters. The approximate one-way metered fare between Kansas City International Airport and the Loews Kansas City Hotel is $46.00 to $55.00 (subject to change).