Events & Education
Conferences
RBC 23 Reg & Housing
Residuals and Biosolids 2023 Registration & Housing
---
Registration
Registration for WEF/IWA Residuals and Biosolids is open!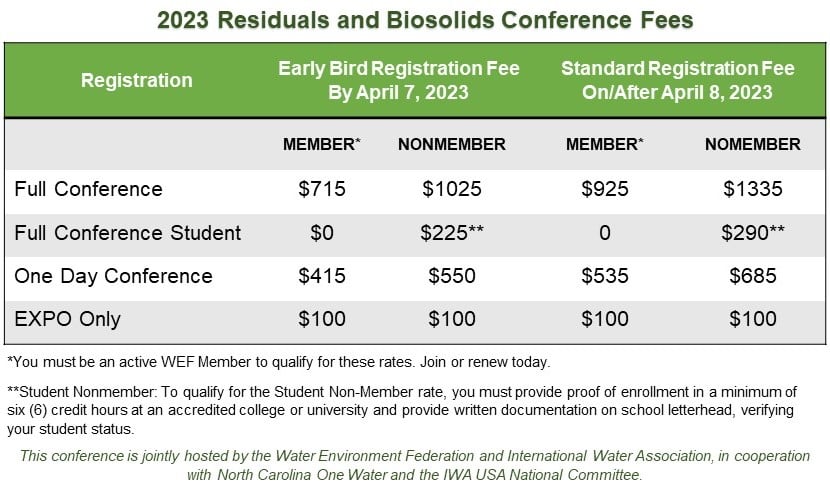 Download the
2023 WEF/IWA Residuals and Biosolids rates
To log in and register, follow these steps:

Log in with your WEF Username and Password (email address and password) or click "Forgot your Password" to reset it.
Do not have an account? Click "Not a Member" to create a free user account
After logging in, you will be redirected to the Residuals and Biosolids Conference registration page
For step-by-step instructions on the registration process, view the registration tutorial PDF.
Registration Fee Includes:
Access to Technical Sessions, networking events, and digital conference proceedings. Workshops are not included with conference registration.
Member Rate Qualifications:
To qualify for member rates, you must have a current individual WEF or IWA membership, valid through the event date. You should have your own individual member ID number. Though your institution may be a member of WEF, you must maintain an individual WEF membership to be eligible to receive the member rate. Learn more about WEF Membership.
Nonmember:
If you are not a member or your membership lapses and is not renewed by the time of the event, you will either have to join/renew your membership or pay the non-member rate for the event.
Students that are not a member of WEF must pay the student nonmember rate and provide proof of student status.
Payment:
Online registration payments are by credit card only (Visa, Mastercard, or American Express).
Cancellation and Substitution:
A written request for cancellation/refund must be submitted by April 28, 2023. WEF will charge a 25% cancellation fee and refund 75%. No refunds will be issued for cancellations requested after April 28, 2023. Rather than canceling, consider sending a substitute. An organization may submit a request to substitute one person for another in writing by April 28, 2023.
Important Note:
All attendees must have a unique email address registered. If you are registering for someone else, please be sure to enter their email address.
Policies, Terms, and Conditions
Questions? Please contact: Registration@wef.org
---
Housing
2023 Conference Headquarters Hotel:
The Westin Charlotte
601 South College Street
Charlotte, NC 28202
2023 Conference Rate: US$239.00/night plus occupancy taxes and fees
Occupancy Fees/Taxes (nightly; subject to change): 15.25%
Hotel rooms are available at The Westin Charlotte, located across the street from the Charlotte Convention Center. The walking distance between the Westin and the convention center is 0.2 miles or 0.3 kilometers.
Rooms are available at the negotiated conference rate until April 24, 2023, or until the room block sells out, whichever occurs first.
Getting to and around Charlotte