What Did WEF Do in 2022?
In 2022, WEF set our sights on new horizons—a world where each person has access to clean water and sanitation, where communities prosper, and where nature thrives. With the release of our new strategic plan, we focused on feedback from our members and partners to prioritize attracting and developing a diverse and passionate water workforce, cultivating a purpose-driven community, and leading the transformation to the circular water economy. We also began amplifying the stories of water to increase awareness of all the great work done by water professionals. Make sure you are following our social channels to see new #WEFWaterStories every week!
The activities below reflect the many examples of what WEF, and its members did in 2022 to support our vision for the future, as well as deliver educational and technical resources for our members, customers, and the water sector.
WEF'S VISION FOR THE FUTURE
AND NEW STRATEGIC PLAN

Welcomed New WEF President, Ifetyao Venner
Ifetayo Venner, P.E. is the 2022-2023 WEF President! Ifetayo has been an active member of WEF since joining after college, participating in committees and task forces related to water resource recovery, facility design, sustainability, and more. She currently serves as a Senior Vice President at Arcadis where she is the North America Wastewater and Water Sustainability Leader. We're excited to have her on board to help us tackle today's water challenges. Learn more about the 2022-23 Board of Trustees


Supported the InFLOW Program
Our InFLOW Scholars made waves during 2022! At WEF, we believe that the water workforce should reflect the communities we serve and are happy that InFLOW helps us enhance diversity and inclusion in the water sector. This year, there were 26 STEMpath scholars, representing 13 universities across 10 U.S. states and 15 participants in the CareerTech track. We can't wait to continue raising awareness for careers in water during the new year! Learn more about InFLOW

Returned to New Orleans for WEFTEC 2022
We were thrilled to be back in New Orleans for WEFTEC 2022! Thank you to everyone who attended and helped make all the events, presentations, exhibits, specialty pavilions, and operations challenge a huge success. During the conference, we recognized the 14 distinguished 2022 WEF Fellows, awarded over 70 individuals, companies, and organizations for their outstanding and diverse contributions to the water industry, connected highly motivated students at the Student Design Competition, and moved earth, literally, to build a green infrastructure project at St. Augustine High School.
Sign-up for WEFTEC 2023 updates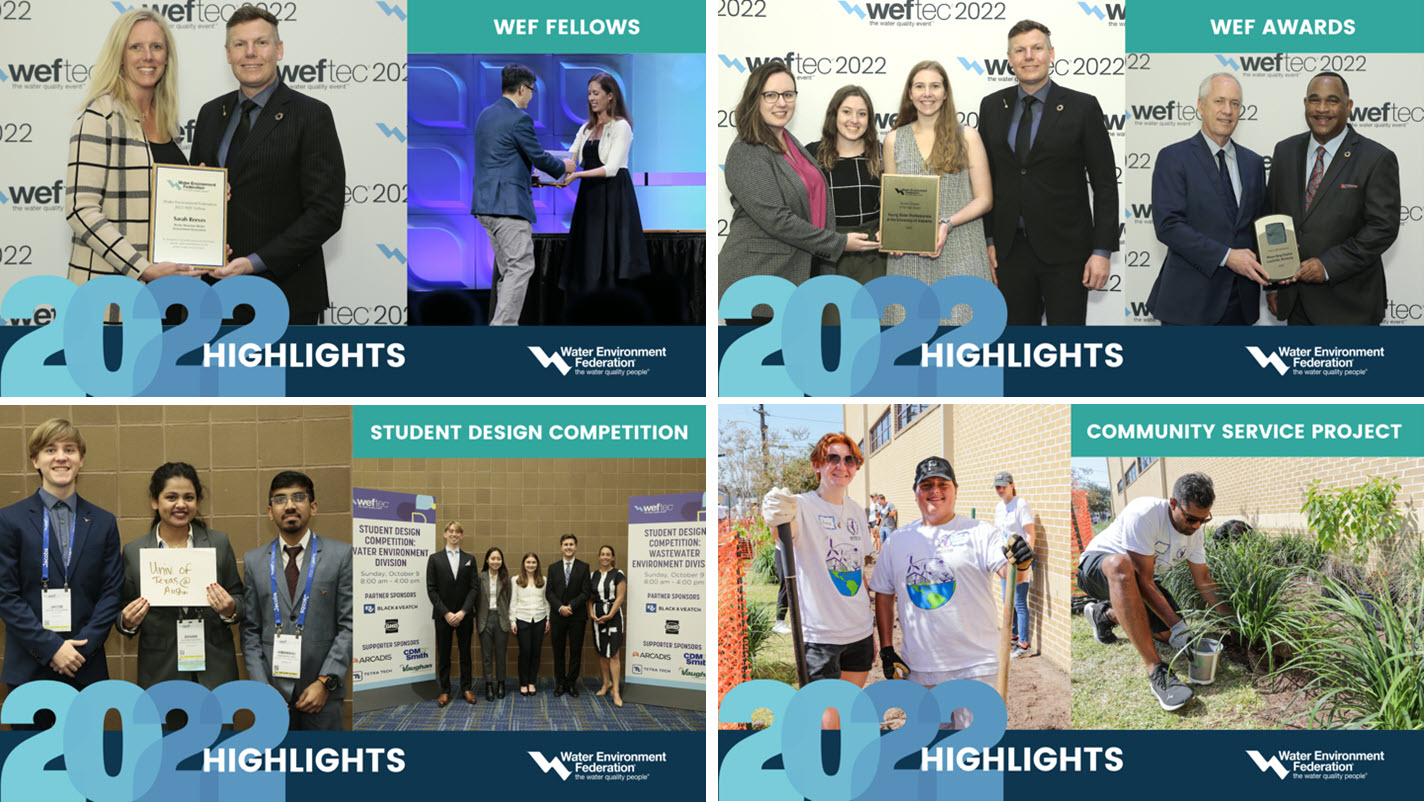 Built Relationships and Shared Information - ASEAN WiSE Program
In 2022, our U.S. Water Smart Engagement (WiSE) program partners made their first international visits to four Association of Southeast Asian Nations (ASEAN) Smart Cities. The WiSE program pairs ASEAN Smart Cities with U.S. water and wastewater utilities to help improve ASEAN cities' water supplies that have been impacted by increasing urban, industrial, and agricultural water use and water-related climate change impacts. We were also excited to have WiSE utility leaders attend WEFTEC 2022. Read about the international visits.
LEARN MORE ABOUT
U.S. Water Smart Engagement

Released Major Publications
WEF released many helpful publications in 2022, including Wastewater Treatment Fundamentals III and the 24th Edition of Standard Methods for the Examination of Water and Wastewater. WEF publications help collect, verify, distill, and share water quality information with our members and the entire water sector. The latest edition to the Wastewater Treatment Fundamentals covers advanced wastewater treatment and helps operators prepare for the third and fourth levels of certification examinations. The 24th Edition of Standard Methods for the Examination of Water and Wastewater is the most up-to-date, comprehensive resource for the analysis of natural water, water supplies, and wastewater. Check out Wastewater Treatment Fundamentals III and Standard Methods for the Examination of Water, 24th Edition.

Hosted Initial Public Health Summit
WEF's first Public Health and Water Conference was held in March 2022, bringing together wastewater and public health professionals! Wastewater-based epidemiology allows for collaboration across fields to help address public health issues. We look forward to collaborating with those inside and outside the water sector in the future. Learn more about WEF's wastewater surveillance programs.

Wrote Prominent Op-Ed's
WEF published two high-profile op-eds during 2022—in the Guardian and USA Today. Both op-eds touched on timely issues that impact the water sector. The Guardian op-ed 2022 focused on the need to manage water in a way that reflects the limited water supply and ensures a sustainable water future for all. The USA Today op-ed discussed our ongoing concerns about PFAS. We'll continue finding innovative ways to raise awareness and educate the general public about important water issues as we move into the new year. Read The Guardian Op-Ed. Read the USA Today Op-Ed.


Called Attention to Biosolids – PBS Viewpoint and Poo and U
We lifted the lid on talking about biosolids in 2022 by getting their detailed journey featured in PBS Viewpoint and by supporting the 2022 Year of Poo Campaign. Biosolids are here to stay—scientists and engineers developed wastewater treatment processes that turn what you flush into valuable nutrients, renewable energy, and clean water. Plus, biosolids create jobs! Join the flush journey with us. Learn more about the PBS Viewpoint segment.
Check out the Year of Poo Website]

Brother-Sister Duo Represented U.S. in Stockholm Junior Water Prize
In August 2022, brother and sister John Benedict and Pauline Victoria represented the United States at the international Stockholm Junior Water Prize (SJWP) in Sweden. Great work by all the SJWP state winners and competitors who participated in this year's competition.

Launched NSmart Program
WEF, in collaboration with the U.S. Environmental Protection Agency, launched the NutrientSmart (NSmart) program to help reduce nutrient loadings in waterways and provide information and tools to help utilities make large reductions in nutrients and discharge cleaner water to the environment. In 2022, we happily recognized 15 utilities for significantly reducing nutrient pollution.