That New Book Smell
Now that my copy of the 24th Edition of Standard Methods for the Examination of Water and Wastewater has arrived, I once again realized that there is nothing like the feel of the brand-new Standard Methods book!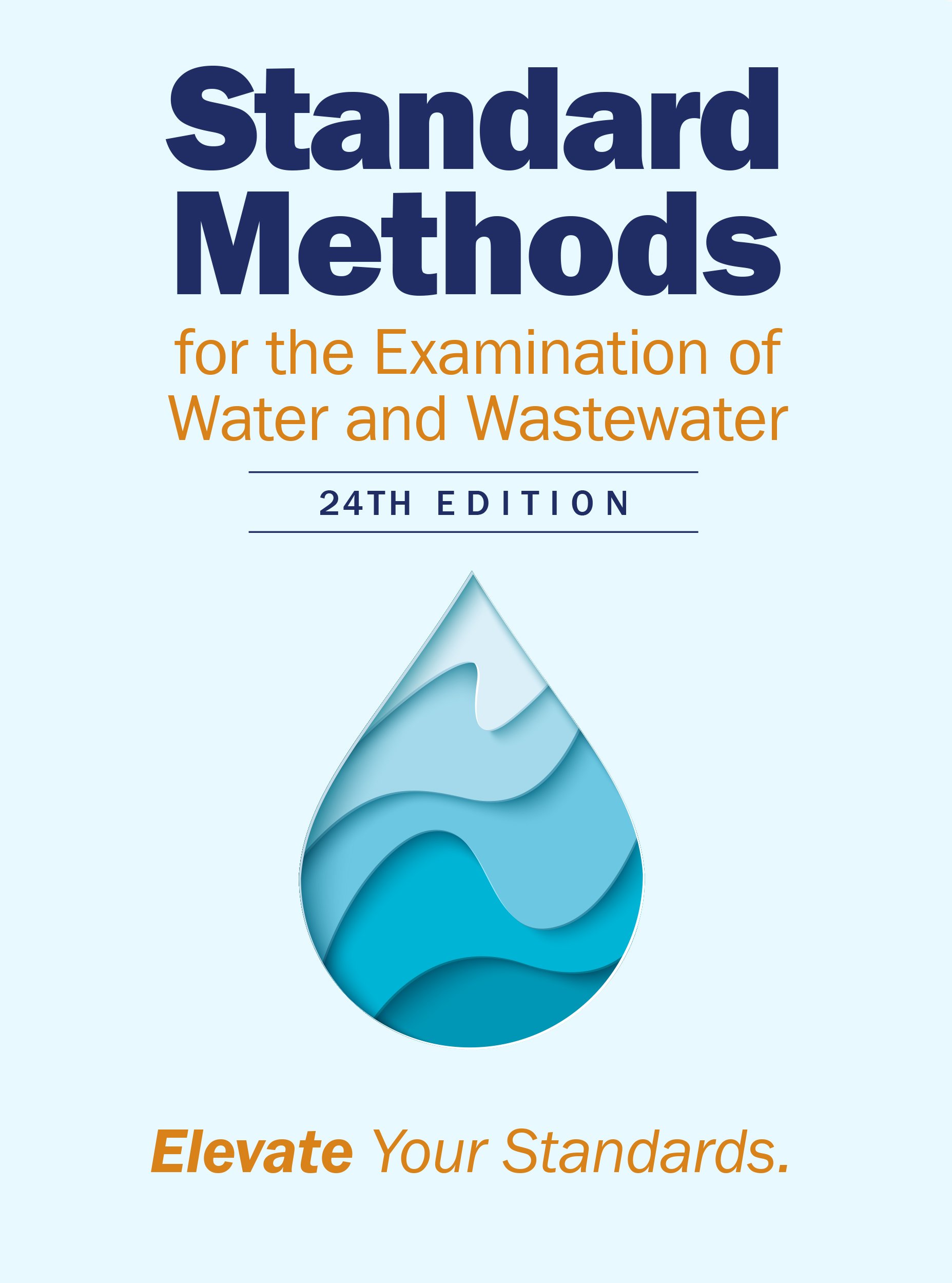 Since 1980, when I bought my very own first copy of Standard Methods as a graduate student in an environmental chemistry laboratory course, this book has owned a prominent place on my bookshelf of professional and technical books. It also was useful years later when I had the pleasure of teaching that same environmental chemistry laboratory course. Standard Methods has been, and is still, the book that I pull out and use from that bookshelf the most.
Thank You to the Volunteers
My first reaction to having the new edition in my hands was to stick my thumbs onto the edge of the pages and start opening the book to find my favorite methods. As my fingers flipped through the pages, I could not help but think about the tremendous number of hours that the many volunteers on the Standard Methods Committee (SMC) have put into working on this edition.
I alone have logged 560.5 hours of volunteer time to Standard Methods since July 1, 2021. (Yes, sad to say, but I do keep track of my time. An old habit acquired when I was in the Laboratory Services Division of U.S. EPA Region 7).
Not surprisingly, the list of all the volunteer contributors is one of my favorite parts of Standard Methods. Whether a volunteer contributed to the consensus-balloting process or to the critical work done in a Joint Task Group (JTG), or served as either a JTG chair, a Part Coordinator, or one of the other two Joint Editorial Board members, this new 3.7 kg (8.2-lb) edition is the result of each one of the volunteers. They deserve to know that their work is not only critical but very much appreciated.
And then there is our modest-sized, but highly dedicated, staff consisting of the Standard Methods Manager and Managing Editor, whose work on this cannot be overstated. Nathan Edmans and Sophia Cook provide the attention to consistency and a good deal of patience that glues the widely diverse group of 287 professionals together. Their dedication to Standard Methods and its volunteers is beyond amazing and also greatly appreciated.
Building Consensus
The three partners organizations that develop Standard Methods —the American Public Health Association, the America Water Works Association, and WEF — have been able to sustain this volunteer consensus approach for developing scientifically-based methods that have allowed professionals to be instrumental in protecting public health and the health of our water environments for the past 118 years.
The partnership with the U.S. EPA has developed and matured since 1970 and is also an essential part of how many of the Standard Methods procedures are developed and used in regulatory compliance.
The use of Standard Methods by past and present professionals extends from generating data needed for routine monitoring and operation of water and wastewater treatment facilities to the research data needed for understanding and advancing the performance of those treatment processes. It reaches from extensive evaluations and research of complex aquatic ecosystems and their understanding as indicators of overall water environment health to the detection and monitoring of discrete compounds and organisms that are known to affect the health of humans and our aquatic environments.
Overall, Standard Methods is either used or referenced by state laboratories and laboratory certification programs, municipal laboratories, consultants, commercial laboratories, and university research laboratories, to name just a few. During the past 15 to 20 years, there has also been an increase in the use of Standard Methods internationally, in particular within our neighboring Latin American countries and those in South America as well.
There is, in my opinion, literally, nothing else like Standard Methods.
Full of Significant Updates
The 24th edition of Standard Methods is, arguably, in my very biased opinion, one of the more significant updates and improvements in recent times. Not only has the look of the header for each method changed, but a deliberate effort was made to correct the language used throughout the book. These changes seek to add clarity to information presented in many methods and to make the book overall easier to use. We know that more work to this end is needed and this effort will certainly continue into the future.
Finally, I cannot close without mentioning the significant number of updated or new methods that are included in this 24th edition of Standard Methods. The methods and their procedures are the nuts and bolts of Standard Methods and this edition has a lot of new hardware.
There are 82 methods that were either updated or that are new.
Part 9000 Microbiological Examination volunteers and its Part Coordinator were particularly active. They produced 45 new and updated methods.
The volunteers and Part Coordinator in Part 7000 Radioactivity were also very productive with 10 new and updated methods. This is particularly significant because they are represented by perhaps the smallest number of volunteers for any one part of Standard Methods.
The volunteers and Part Coordinator in Part 4000 Inorganic Nonmetallic Constituents were similarly very active with 11 new or updated methods produced.
The remaining 16 new or updated methods or sections are the result of all the volunteers who worked on the remaining parts of Standard Methods.
Dedication Matters
In closing, it is probably overly obvious that volunteers seem to be a consistent thread throughout what I have written above. It is, after all, the volunteers who create the content and question the content and strive to make it better.
Their dedicated participation in the ongoing work required to keep Standard Methods a premier source of methods and procedures that support public health, water quality, and the health of aquatic environments overall, is highly valued and worth the acknowledgment.
I invite current volunteers to look for ways they can become more involved and urge others who have the expertise or experience that would contribute to the future work that is needed to consider joining the SMC to add to the already outstanding pool of volunteers who make Standard Methods possible.