Lara Grotz, EIT, shares her experience visiting Water Week in person for the first time and as a new mother.
My first experience attending the virtual Water Week in April 2021 could not have been more convenient. I was able to sit at my work desk and attend several meetings with North Carolina Representatives virtually over Zoom.
When I was invited back this year to explain the importance of water infrastructure in Washington D.C., I was excited to attend my first in-person work trip since the pandemic.
But there was one small glitch in my plan. I now had a 3-month-old baby! Spoiler alert: He ended up coming to D.C. with me. I attended the 2022 Water Week, funded by a WEF YP Scholarship and by my employer HDR. I encourage other young moms to chase these professional opportunities.
I work as a wastewater engineer in training for HDR in Charlotte, NC. I value my work and especially enjoy the intersection between water policy and water design. One project that I am working on is directly impacted by water policy since the entire facility is in a floodplain and the municipality relies on state and federal funding to build infrastructure out of the floodplain.
With all of that in mind, I want to be a positive role model for my son and support his growth too. I was able to make all of this happen by the generosity of my mom who met me in Washington, D.C. and my husband who agreed to join me and work remotely and babysit my then 3-month-old in the hotel room while I attended various Water Week events.
The first morning of Water Week, WEF hosted a Young Professionals breakfast. I enjoyed getting to meet Young Professionals from around the country who were also interested in water/wastewater policy and who taught me about the Water Advocates program. From this experience networking, I gathered business cards and later connected virtually on LinkedIn with those whom I'd met. After the breakfast and following the seminars, I researched what bills WEF was following and supporting. I identified bills that interested me on GovTrack.US and flagged them to stay up to date after I left the conference.
The rest of my time was spent on the Hill meeting with congressional leaders and staff from North Carolina. From this opportunity, I became aware of bills that directly affected my projects and was able to explain the importance of the new legislation to the representatives who would decide whether to support the programs. The legislative assistants were excited to receive our contact information so they could use our professional experience as an educational resource when new bills were developed on the future.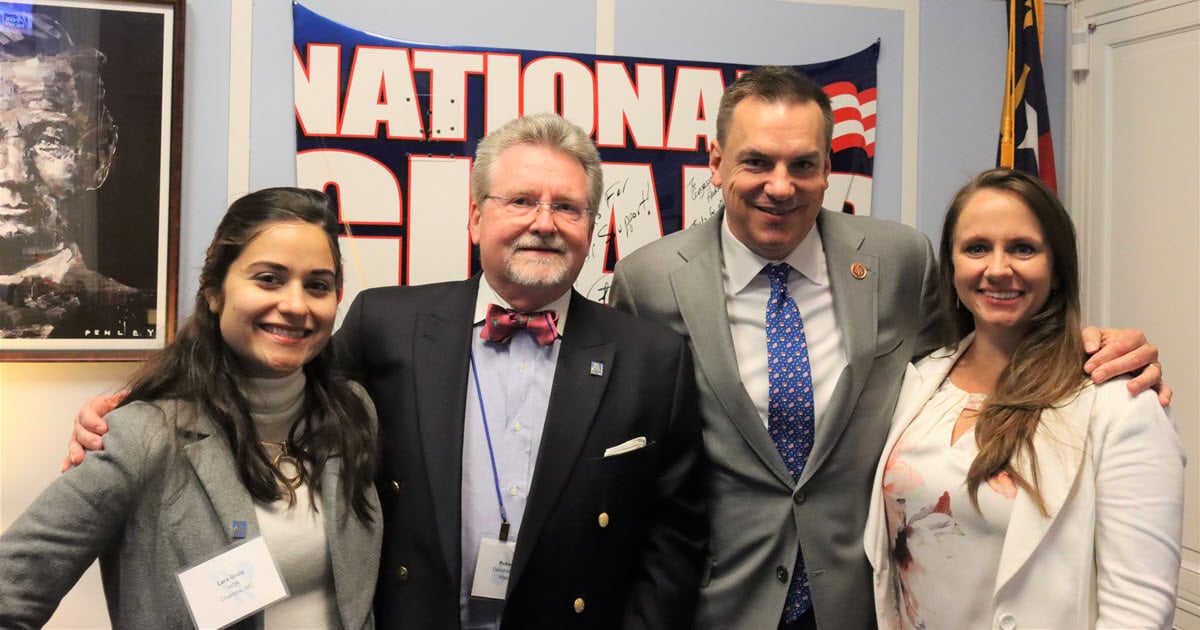 During Water Week 2022, Lara Grotz; Robert Walters, Vice President of Construction and Engineering for Davidson Water; U.S. Rep. Richard Hudson (R-North Carolina); and Keri Cantrell, Ph.D., P.E., Chief Engineer of Planning & Land Development for Charlotte Water stop for a photo.
So, what can you do if you want to attend as a working first-time mom also?
Communicate with your team – I attended Water Week with two of my colleagues from HDR and I communicated to them that I would need to have 30-minute segments throughout the day for what I coined "mom stuff." I utilized scheduled coffee breaks to take my own breaks and pump in the hotel restrooms.
Communicate with your family – I gave my family a copy of the conference schedule and let them know when and where I would be. Plus, I regularly checked in over FaceTime during scheduled conference coffee breaks.
Stay close to the action – I stayed at the hotel where the last event of the night was (Water Week Mixer). That way I would not have to take a taxi to get back to the hotel at night. I also called ahead of time and ensured that the hotel room would have a crib and a refrigerator.
Set realistic expectations – I dedicated my early morning and late evening to my son. I declined attending a late-night outing with colleagues for my son's bedtime routine.
Reflecting on my experience, I am grateful for WEF supporting young professionals, to my employer HDR for financially supporting me to attend, and for my family for providing daytime childcare and giving me the freedom to work.